Welcome to Television's Greatest - a celebration of America's local _ national TV kiddie show hosts of the 1950s, 1960s and 1970s, those great entertainers and educators that delighted us as children and who gave so much to the communities they served. Every week we'll bring you stories from the golden age of local television. TV ain't like that anymore!
---
The Kiddie Scene with Mr. Green
I got a lot of comments on the TV Guide scan from the other day. It's from a 1968 North Carolina edition. Kevin Butler asked about the children's show listed as 'Mr. Green.'
That was actually The Kiddie Scene with Mr. Green and I was on that show as a youngster. I took a parody of Dragnet from Cracked magazine to use as a script and wrangled the other kids in the neighborhood and put on a play. For whatever reason, I called channel 48 and asked if we could do the skit on their kid's show and they said yes!
My dad drove us down to the station one afternoon, I don't think he quite believed we were really going to do it. My younger brother, who was in the first grade, missed his cue so one of the girls in the skit called him a "dumus" (like dumbass), that had to be edited. It was a real 'Little Rascals put on a play' kind of thing.
The only other thing I remember about the program was that they played 'Yakety Sax' and 'Charlie Brown' all the time. Channel 48 actually signed on the air at 3:30 in the afternoon, with Kiddie Scene with Mr. Green.
At that time, WUBC channel 48 was a small, independent station in the warehouse district of Greensboro, located on Wendover Avenue, I believe. Today the station is known as UPN 48. They were a damn fine independent station, offering in 1968 a lot of pretty decent movies, a locally produced dance show that followed Kiddie Scene called The Now Generation, public affairs shows like Questions, Answers, Opinions, and reruns of The Outer Limits, Patty Duke and Route 66.
They also aired plenty of syndicated country western shows like Stone _ Atkins, Roller Derby as well as The Steve Allen Show weeknights.
Wednesday, December 14, 2011 - 7:00am
WOULD YOU LIKE TO RESPOND
A PASSING THE MEDIA MISSED
Kevin S. Butler writes: Sadly, the TV cartoon world has suffered another loss.
Pioneer television animator Alex Anderson ,Jr., the man who helped to co-create "Crusader Rabbit" TV's very first original cartoon series and "Rocky _ Bullwinkle" with Jay Ward, died on Friday October 22, 2010 at his home in Carmel, CA. He was 90 years old and in failing health.
Born on September 5, 1920 in Berkeley, CA Mr. Anderson attended The University of California Berkeley and later The California School Of Fine Arts in San Francisco.
In 1938 he began his animation career by work for his uncle Paul Terry the creator of "The Terrytunes" movie cartoons at the latter's studio in New Rochelle,New York.
Anderson left to serve in the US Navy overseas as an uncover spy during WWII but after the war, returned to work at "Terrytunes" in 1946.
In 1948, Anderson tried to get his uncle to create a new series of cartoons for TV but he refused so Anderson left the studio to create his own series. Moving back to Berkeley, he was reunited with his boyhood friend Jay Ward and together the pair created and produced "Crusader Rabbit" films. Anderson was the creator of the films, Ward was the business exec of the partnership.
The series was picked up by NBC TV in 1949 and the films were soon seen in national syndication on many local stations airing on daily children's programs.
On WNBT/WRCA/WNBC TV 4 in NYC "Crusader" was seen on "Children's Theater" with Ray Forrest and the films were also screened on "The Merry Mailman" with Ray Heatherton, Milt Moss and Chic Darrow on WOR TV 9 and on "Kartoon Klub"/"Shari _ Her Friends" first hosted by Ted Steel and later by Shari Lewis and her puppets Randy Rocket _ Taffy Twinkle on WPIX TV11 in NYC during the 1940s and '50s.
The two men worked well together until the pair began work on another series for NBC "Rocky _ Bullwinkle" the seriocomic adventures of a squirrel and moose along with "Dudley Do Right", the misadventures of a bumbling Canadian mountie.
When Ward found out that Anderson taken total control of the series as the main owner of the films copyright he angrily filed a lawsuit against his partner for copyright infringement. The law was never really settled until many years later, in 1996, when the matter was settled out of court with Anderson receiving credit as the creator of "Rocky _ Bullwinkle".
Ward also found out that Anderson had sold the rights to "Crusader Rabbit" to TV Spots Inc. in 1957; enraged he ended his partnership with Anderson and he took on Bill Scott as his new partner.
Together Ward and Scott created and produced "Rocky _ Bullwinkle" and other successful TV cartoons for ABC _ NBC that aired on weekday evenings and on Sunday nights and weekends on the networks and in national syndication into the late-1960s.
There is very little information about Anderson's activities after his breakup with Ward. He worked in the advertising field creating commercials for Smuckers jellies, Skippy Peanut Butter and Berkeley Farms but not much else is known about his efforts past the 1950s.
Sunday, October 24, 2010 - 1:30pm
WOULD YOU LIKE TO RESPOND?
1950's KID'S TV SUPERSTAR
"From the very early fifties, are there any readers out there who remember "Mr. I-magination"? It featured a host sitting atop the scaled-down studio-sized version of a locomotive on a circular track. Do not recall name of host, but he seemed to convey a blend of Don Herbert, the original "Mr. Wizard", and Sonny Fox ("Let's Take A Trip"-from the latter fifties)."
- Steve B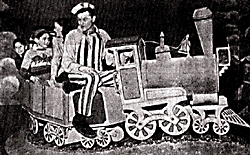 Paul Tripp was known as Mr. I Magination on television in the early Fifties. A gifted writer/producer, he was the creator of the very successful children's record 'Tubby the Tuba' (in 1942) - the story of a little tuba that wanted to play music like the other instruments. The album was so well received it was made into a short film and a best-selling book.
That's when Norman and Irving Pincus asked Tripp to devise a television show. Tripp had been used to working on shoestring budgets and achieving remarkable results with his theatrical productions, which made him a natural for the early days of television. 'Mr. I. Magination' ran on a loose network of CBS stations located in New York, Washington, Baltimore and Philadelphia starting in 1949.
Paul Tripp plays a magical train engineer who can make a kid's dreams come true - just say the words "I wish I were" and travel with Paul to Imagination Town.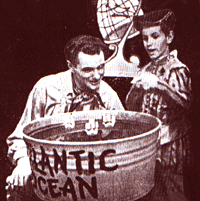 Tripp wrote his own scripts and original tunes for the show each week, as children act out high dramatic moments in the lives of famous historical people like Christopher Columbus, George Washington or Betsy Ross.
He made imaginative use of the simple props available - a washtub became the Atlantic Ocean, painted backdrops and bluescreening were used to suggest exotic locales.
"We want to entertain by getting people to use their imaginations" was Paul Tripp's very practical philosophy.
'Mr. I. Magination' also featured Ted Tiller and Ruth Enders (Tripp's wife). These two would don costumes and play all of the secondary characters in the children's fantasy plays. The show was a hit with the critics and with parents who were looking for more intellectual fare for their kids.
When 'Mr. I. Magination' was cancelled in 1952 after a three year run, New York Times critic John Gould lamented: "An advertiser may want to reach out to the largest audience, but a broadcaster... has many different obligations, among them serving the minority.
"Without continuing efforts to that end, the broadcaster's concept of majority rules programming is only an illusory jest and a form of cultural totalitarianism."
During the summer of 1955 Paul Tripp hosted his first kids TV show without his wife and regulars. Unlike his first venture into educational TV, 'It's Magic's aim was to entertain viewers, on this program Tripp and guest illusionists would perform magic tricks and escapes. It was seen Saturday nights on the CBS network beginning July 31, 1955. 'It's Magic' continued to entertain loyal viewers until the magic ended on Saturday, September 4, 1955.
Later Paul Tripp hosted another children's show called Birthday House, a local New York City production where each day one lucky child got to celebrate his or her birthday in a grand way on the show.
Paul Tripp died on August 29, 2002, his wife died in 1999.
Monday, October 18, 2010 - 8:45am
WOULD YOU LIKE TO RESPOND?
ROMPER ROOM MEMORY
It's funny how TV touched my generation growing up - in a way it can't possibly anymore. Television stations were serious about public outreach before the mid-1970s - after all, why would you watch their shows outside of primetime?
Local children's shows offered an opportunity to share in something that was slightly larger than life yet real and tangible. These programs were hosted by individuals with a genuine love for children; the camera and the young audience picked up on this, creating a lasting impression. Of course, this was a time when the medium wasn't populated by vapid, image conscious barracudas.
Here's a poignant example of that connection that once existed, Nancy McCormick (nee Schell) writes: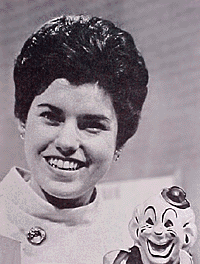 In 1968, I was five, and only child, and was anxiously waiting to start kindergarten. We lived in a run down area of Staten Island and one day, my Mom took me to the Woolworth's right down the block from our apartment, to see Miss Louise from Romper Room School.
I watched the show regularly because I was real eager to start school. I knew she was coming to "our" Woolworth's, but I didn't think my Mom even knew she was going to be there, and I didn't think to tell her.
There was a long line of moms and kids, and we got in it, but then my Dad showed up in the middle of the store, all drunk and delusional, and kept yelling about stuff that made no sense.
My Mom got me out of there before he saw us. She didn't want either of us humiliated but I kept asking her, "Why's Daddy yelling? Is he going to get arrested?"
A few minutes later, we went back in and the line was a lot shorter. I guess my Dad scared some of the other Moms. The people who worked at the store had my Mom bring me toward the front of the line. I kept looking for my Dad and asking my Mom if he was coming back.
Before you know it, I was standing in front of Miss Louise. I saw her with the kids in front of me, and she was sweet, but swift, shaking their hand, asking their first names, then giving them a balloon and a bag of goodies and sending them on there way.
When she got to me, I felt shy and confused. My fantasy world and real world colliding in such an extreme way. Miss Louise took both my hands and asked me my first name. I told her. Then she asked me my last name, which surprised me, but I told her. Then she put me on her lap, with her arm around my shoulder and asked if I went to school, and I prattled for a minute about going to Kindergarten soon. Then she put me down and gave me the goodie bag, but she was out of balloons. I was so giddy, I couldn't have cared less. I told her, "I don't need one." My Mom immediately said she'd buy me one, but I told her the same thing. A lady who worked in the store gave me one off the shelf anyway.
It doesn't end there.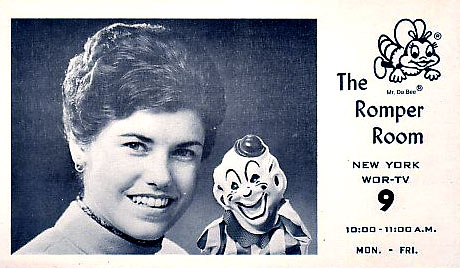 The next time the show was on, at the very end of the show, when she looked into her magic mirror and said "Romper Bomper Stomper Boo..." and started saying the kids names... I got real excited and attentive, hoping she'd say the name "Nancy," but not really believing that she'd be thinking of me when she did.
She said a bunch of kid's first names, like: "I see Timmy and Susan and Carl..." then she said my name, first and LAST!!
I was so happy, I was jumping out of my skin and squealing! My Mom was in the kitchen, and I honestly don't remember if I told her or not. I think I did.
It was so cool that she actually SAW me. Not in the magic mirror, but in the Woolworth's. I wasn't just another kid on the assembly line.
I'm 47 now but I still inwardly laugh and cry when I think about it.
If she is still alive and if anyone who knows Miss Louise reads this... please tell her this story and thank her so much for making one nervous little girl so happy.
Saturday, September 18, 2010 - 8:04am
CLICK TO RESPOND

Read more Children's TV Blog entries!